Piano String Covers:
Five Reasons Why
You Should Get One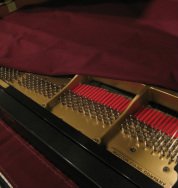 Piano string covers are essential to the preservation and protection of your piano's "vocal chords", or metal strings, to keep them in top shape - free from any corrosion and deterioration - while allowing them to release clear and resonant sound.
Strings covers are essential to protect your piano's strings against dust, moisture, and their subsequent counterpart, corrosion.
String covers are an inexpensive guarantee that your piano can be protected on the inside, while enhancing its beauty, and achieving a greater level of tuning stability, year after year.
Our string covers are made using only the highest quality materials. 100% woven wool is the perfect fit when it comes to repelling dust and moisture - it's dense enough to block it out, and yet "thin" enough to allow sound to be projected from the soundboard.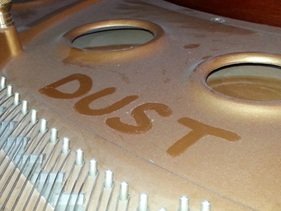 Now, why should you buy a string cover? Here are five reasons why you should get one.
REASON #1: Protection for your piano. String covers protect your piano's delicate strings from two outside "enemies" that, when combined, conspire to threaten, or shorten, your piano strings' life span: (1) dust and (2) moisture content in the air.
A piano string cover protects against these two elements, while enabling any moisture within to evaporate and absorb into the wool. This simple solution prevents moisture from developing onto the metal parts of your piano, including the strings, tuning pins, agraffes, cast iron plate, bridge pins, hitch pins, duplex scaling or aliquots, and soundboard (wood), which ensures that rust cannot "eat" at your piano, and deteriorate the top inner portion, over time.
String covers also prevent dust and moisture, coming from above or below the piano's strings, from settling into the piano's mechanical action, which can negatively affect its performance and touch response. 
Sample Product Video: 

Please Note: This is a SAMPLE VIDEO ONLY. A matching key cover is NOT offered at this time with your string cover and colors may vary from this video and your actual string cover. 
REASON #2: Preserves the beauty of your piano. String covers guarantee that no dust, spills, pet hair, or any foreign object will ever accumulate in this hard-to-clean area of your piano. Thus, you can be sure that your piano's beauty is preserved for several decades and generations. When you choose a wool string cover, you'll also get extra benefits because it also prevents a gradual hazard from developing over time – namely, rust and corrosion on the plate and strings.
REASON #3: Additional tuning stability. String covers control the amount of moisture content in the air that could potentially harm your piano's top, metal surface components (see the list of metal parts, in bold, above the video). 100% wool is a natural insulator, so it makes sense that the piano is well protected not just from the constant rise and fall of temperature and humidity levels, but also from other harmful atmospheric particl
REASON #4: Quality. When choosing a piano string cover, we offer only the highest quality materials. Our string covers are custom made from 100% premium wool of the highest quality. It's thick enough to eliminate dust and moisture while still allowing the sound to come through the cover's top.
REASON #5: Lifetime Value. Our piano string covers offer the perfect satisfaction guarantee. We strive to meet your expectations, not only in terms of quality, but in giving you the satisfaction that what you are paying for is by far, worth every penny.

Piano String Covers:
An Essential Tool and Investment

A piano string cover is an essential tool that guarantees the safety, security, and quality of your piano. So, if you want to invest in your piano's durability and the quality of music it produces, you can't go wrong with an affordable string cover.
You'll notice the difference it makes to protect your piano's interior against dust, moisture, and other contaminants, which inevitably accumulate over the years on the piano's strings, plate, and soundboard.
Order a string cover today to ensure the longevity and optimal performance of your piano's delicate interior parts and the quality sound it was designed to produce.
All of our piano string covers ship to you directly within 8 to 10 weeks [as of September 1, 2022] as they are 100% custom made to order.
We DO NOT offer any refunds once your order is submitted to us, as each cover is custom made to order.
Cancelled orders are subject to a 25% restocking fee.*
We are confident our string covers will meet and satisfy all your needs, or we will make it right. 
*Subject to Terms & Conditions. 
---
Grand Piano String Covers
Manufacturer Suggested Retail Price - Total Piano Care's Price
Petite through 6' 1". . . . . . $435 . . . . . . . . .  $419

Over 6' 1" through 7'6"  . . .$475 . . . . . . . . .  $449
Over 7' 6" through 8'0"  . . .$545 . . . . . . . . .  $499
Over 8'0 through 8' 11" . . . $595 . . . . . . . . .  $550
Over 8' 11" through 9' 11"   $675  . . . . . . . . . $625

10' or Longer . . . . . . . . . .  $750 . . . . . . . . .  $699
Please add $40 for insured domestic US ground shipping with tracking. 
CA Residents add 8.75% sales tax. 
Please Note: At our manufacturer's request, piano key covers are NOT offered with string covers at this time. Please let us know if you would like to request a matching key cover at an additional cost. We shall forward your request directly to our manufacturer for review.  
.

TO PLACE AN ORDER, PLEASE CONTACT US with Your Piano's:
(1) Make
(2) Model
(3) Serial Number
(4) COVER COLOR [see samples below] and
(5) Stitch Pattern + Stitch Color, and we will send you an invoice to pay via PayPal. 
We do NOT provide KEY COVERS as seen within the "Sample Video" on this page. We apologize for any inconvenience this may have caused for some customers. If you would like a key cover, please Contact Us to in writing to forward your request to our manufacturer to reconsider their decision. 

---
Please Provide Your Order Details, Here. Contact Us.

---
CALL US WITH ANY QUESTIONS:
(866) 488-KEYS (5397)

---
For a darker "Navy Blue", please add an additional $75 to the cost, as this color is not stocked, but is a special order item.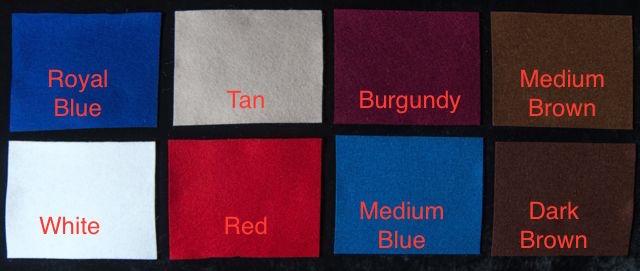 Here you will find two (2) decorative stitch options.
The top three rows of the first sample shows the (1) Greek Key stitch, and the bottom three rows show the (2) Feather stitch.
Both stitch patterns are available in Gold, Blue, Red, Black, or White thread.

---
ORDER A 100% WOOL HAND-CRAFTED
STRING COVER:
Prices Include Shipping to the 48-contiguous United States.
For shipping quotes to other regions, Contact Us for a quote.
Make sure that your piano make/model is found in the reference chart below. If you cannot find your piano make/model, you can send us a paper template, as shown in the video below.

PLACE YOUR ORDER BY PHONE. Please have ready your piano's (1) make, (2) model, and (3) serial number.

Diagram: How to MEASURE Your Piano.

CALL US WITH YOUR ORDER:

(866) 488-KEYS (5397)
---
Do You See Your Piano in the List, Below?
You can also make a paper template of your piano, by scrolling down to the bottom of this page, to receive instructions.

Currently, as of FEBRUARY 2020, we have available the following string cover templates:
It is not necessary to send a paper template if your piano's make/model is found within the list below.
APOLLO --- Petite, 7'

AUGUST FORSTER --- 170, 190, 215
BALDWIN --- C 6'3", L, E, M, R, S, SF, SF10, SD10 (9'), W, BP148, G 5'6", H, B-1, DH-MP, DH C-142, DH C-152, 152, H-165, DH-172, C OR
BALDWIN HAMILTON --- 5'1", 5'2"
JULIUS BAUER --- 6FT

BAUS --- BABY GRAND

BECHSTEIN --- A 208, B, B88, L, M, S (4'9"), 190, 192 M/P, A228; Also: C. BECHSTEIN C 5TF, C91; Also: W HOFFMAN 6'4", V183, EN 9 FT

BEHR BROS --- 5'1"
BERGMANN --- TG-150, TG-157, TG-175
BLUTHNER --- Model 2, Model 4, Model 6, 5 FT, 5' 6", 9 FT
BOHEMIA--- 185

BOLLERMAN---5'2"

BOSENDORFER --- 5'1", 5'6' 6'9", 170, 185, 190, 200, 213, 214, 225, 275, 282, Imperial 9'6", VIENNESE.
BOSTON --- GP156, GP163, GP178, GP193, GP215 (ALSO ALL PERFORMANCE EDITIONS)
BRAUMULLER --- 4'9

BRAUMBACH --- 4'10", BABY GRAND

BREWSTER --- 5'1"

BRODMANN --- 162, CE-175, BG187

CABLE NELSON --- CN151 , CN161
CHALEN --- 155
CHIC --- 6'1"

CHICKERING --- 5'2" & 5'6", 123, 507

NOTE: EMAIL US with APPROXIMATE SIZE, SCALE #, WITH SERIAL #. HAVE MANY CHICKERINGS IN STOCK

CLINE --- CG-46, CG-49, CG-510, 5'3"
CROWN --- 5'4"

CUNNINGHAM --- BABY GRAND

CURRIER --- 4'11"

DIAPASON --- D183

ESSEX --- GP155, GP161, GP173, GP183

ESTONIA --- 168, 190, 274

FALCONE --- GF42, GF52, GF62, GF72, GF87, GF208, 7'4"

FAZIOLI --- 183, 212, 228, 278, 308
FEURICH --- 190, 220, 6'4"

FISCHER --- 4'7", B,

GEORGE STECK --- GS42, GS52, GS62, GS72, GS87, GS208, EMAIL WITH MEASUREMENTS HAVE VARIOUS SIZES NO MODEL #'S

GROTRIAN --- 160, 185, 189, 208, 223, 275
GROTRIAN STEINWIG --- 200, 220
GULBRANSEN --- 4'8"

HAILUN --- 161, 178, 198, 218

HALETT DAVIS --- 152C, 6450A, 5' 5"

HAMILTON --- H-401

HARDMAN --- EMAIL WITH MEASUREMENTS HAVE VARIOUS SIZES NO MODEL #'S

HARDMAN PECK --- 5'2"

HAZELTON --- 140

HEINTZMAN --- 168, 6'

HENRY F. MILLER --- HMG058, HMG063, HMG067, 8'9"

HOBART CABLE --- GH42, GH52, GH62, GH72, GH87, GH208
HORUGEL--- G-3A (5'9")
HYUNDAI — G-50, G85, G-80A
IBACH --- 160TR, 6'7", F II, FIII 7'
IRMLER --- 159

IVERS & POND --- 5'

KAWAI --- KG-1 C&D 5'1, KG-1 E&A 5'5, 185, 350, KG-2, 500, KG-3, 600, KG5, KG-6 E&A, GE-1,GE-2, GE-3, GE-20, GM-1, GM-2, GM-10, GM11, GM-12, GM-2, GE-30, GS-30. GS-40, GS-50, GS-60, GS-70, KG-6 E&A, RX1 (& BLAK), RX2 (& BLAK), RX3 (& BLAK) , RX5 (& BLAK), RX6 (& BLAK), RX7 (& BLAK), GL10, GL20, GL30, GL40, GL50 6'2" (ALSO ALL KAWAI GX MODELS), GS100, EX

KEMBLE --- KC173
KIMBALL --- 4'6", 5100, 5'2", 5'8", 6'7"
KINGSBURY--- BB

KINGSBURG --- EMAIL WITH MEASUREMENTS, SERIAL # ETC. HAVE 2 TEMPLATES W/ NO MODEL #
KNABE --- K50 (sa KIG50), WG48 (sa KIG48) , WG50 (sa KIG50), WG54 & WSG-54 (sa kig54), K57, WKG-57 (sa K57), WG61 (sa K&CKCG650), WG59
(sa KCG600), WG61, KN-520, 5'8" (circa early 1900's) NOTE: EMAIL US APPROXIMATE SIZE WITH SERIAL # HAVE MANY KNABES IN STOCK

KOHLER & CAMPBELL --- KIG47, KIG48, SKG400S, KIG50, KIG52, KIG54, KCG450 (4'9"), KCG400 (sa kig47), KCG500, SKG500, KCG600,
SKG600, KCG650, KFM650, SKG650, SKG700
KRAKAUER BROS --- 5FT

KRANICH & BACH --- 6FT, C141

MASON & HAMLIN --- A, AA, B, BB, CC

MAY BERLIN --- M187

NORDISKA --- D (5'), 5' 11"
PEARL RIVER --- GP142, GP150, GP159, GP160

PERZINA --- G187, 6'1"

PETROF --- IV 5'8", III 6'4", V, P 194

PIANO DISC --- PD500, PD520, (sa YC 157)

PLEYEL --- 5'8

PRAMBERGER --- JP157, JP175, P185, PS185
REMINGTON --- 140D, RD150
RIEGER KLOSS --- 185
RITMULLER --- 170

SAMICK --- SG140 (sa K&C kig47) , SG150 (sa SIG50), SKG400, KCG450, SKG600, G1A, SG155 (sa KCG500), SIG54, SG161 (sa KIG54), SG172, SG185 (sa KCG650), SG205, WSG225
SAUTER --- 160, 185, 220

SCHAFER & SONS --- SS-47, SG-48, SG-51, SS-51, SS-53, SS-58, SS-60, SS-510, STG-150, PG-1, SS-90, G-3A, G-5A
SCHIEDMAYER --- MODEL E, MODEL B, 170, C-183

SCHIMMEL --- 169T, 174, W180, 182T, C182, K189, 208, 213, 230, 5'8" (1991), 5'9", 295, MODEL CC, C-10F,

SCHULZE POLLMANN --- 190
SCHUMANN --- G-80 A, 680A, 5 FT, 5'9".

SHERMAN CLAY --- SDG1

SHIGERU KAWAI --- SK2, SK3, SK5, SK6, SK7, SK-EX.
SOHMER--- CUPID 5'4"

SOJIN --- DG-1, DG-2

STEIGERMAN --- SG143, 161
STEINWAY AND SONS --- S, M, L, O, AI, A II 6'2", A III 6'4-1/2, A (85 NOTE), B & (B 85 NOTE),  D, C (7'5"), C (85 NOTE)
STORY & CLARK --- M152, H60 (5'1"), SC 700 5'9", GX160, GX 170 .

TOKAI --- 155 (5'1")
VIENNA - 5'

VOGEL --- V177 (5'11")

WEBER --- WG-50, WLG-50, WG51 (sa YC G157), WSG51, W150 (sa YC G150), W157 (sa YC Y157), W175, (6' CIRCA 1920), WSG60 (sa YCG185)
WENDL & LUNG --- 161

WURLTIZER --- C14 3, C153, 173, G452, G457, G461, G4111, R2, 6FT

WYMAN --- WG170
YAMAHA --- GA1, GP1, GH1, GH1B, GH2, GC1, GC2, GB1, A1, C1, C2, C3, C5, C6, S4, S400, S6, C7 7'6"&7'4", G1, G2, G3, G5 (Also All YAMAHA CX models)
YOUNG CHANG --- G150, G157 (sa Web WG51 & PG157) , G175, G185, PG 150 (sa Y150), PG213, Y150 (sa Web W150), Y157 (sa Web W157), 190, 208, 213, 275

ZIMMERMANN --- 4'5', 4'9"

---
How to Create a
Piano String Cover
Paper Template


DIRECTIONS:

Materials needed:

1) Butcher paper to cover the entire surface area of your piano's top lid.

2) Masking Tape to tape the paper together, and to tape the template onto the piano, over the piano's top lid, when tracing with chalk. 
3) Chalk to trace the template.
4) Scissors to cut out the template.

5) Black marker to write your information on the template.

(1) Place a large sheet of butcher paper over the top lid of your piano. Tape together the paper in the middle.
2) Align the long, straight edge of the paper to the piano's left side (bass section).
3) Use masking tape to secure the template down onto all sides of the piano, so it will not move around, at Steps #2 and #4. 
4) Crease the paper over all the edges of the top lid, rounded and straight, and lightly mark the creases with a piece of chalk at the edges.

5) After the creases are clearly marked, remove the paper from the piano and cut out the template with scissors, AWAY FROM THE PIANO.
*** DO NOT CUT OUT THE TEMPLATE ON TOP OF
OR NEAR THE PIANO, IN ORDER TO PREVENT
THE SCISSORS FROM SCRATCHING THE PIANO. ***

6) CHECK YOUR PIANO'S TOP LID HINGES, FIRST, BEFORE LIFTING IT OPEN. Make sure there are no missing hinge pins (outside) or screws (inside), so that you can open the lid properly, without causing any major injuries to you, or any damages to the piano, itself. 
Get a flashlight and check the inside of the piano, to the left (facing the keys) if you haven't opened the top lid in awhile (or ever). Make sure the hinge pins and hinge screws are there in place on the left (bass) side of the piano.
BE EXTREMELY CAUTIOUS & CAREFUL that you can open the lid safely. Make sure the lid is SECURELY ATTACHED 100% to the piano (on the left side), so as to not cause any damage to the piano, or to yourself. Be careful, it's heavy!!

7) Carefully open the piano's top lid. Place the template into the piano. Make sure it fits into the cabinet on all sides.
8) If there is excess material hanging over the piano's stretcher (long horizontal edge of the front cabinet, directly above the piano's keys), mark it with a crease, and cut any excess paper away so the template lays into the piano, flush, without any paper hanging out.
Try to make sure the template fits snugly against the stretcher, without any gaps, so the cover will not come up too short when it's made.

9) If there is <1" to 2" of excess paper near the curved edges of the piano, leave it there. Trim as needed. The string cover can be fitted into the deep plate/rim section of the piano with only 1" to 2" of excess material.
Make sure the general shape of the template matches the curved sections of the piano's cabinet.
10) Feel around the middle of the paper template. Create creases where you can feel the piano's plate structs, underneath. Mark the struts in pencil.
11) After all the struts have been marked, take the template out of the piano, and mark the creases with a permanent black marker.
These are areas where wooden baton pockets will be sewn into the cover, to keep the cover from falling down, and touching the strings.

12) Write your full name, phone number, piano's make, model, and serial number onto the template.
Send the paper string cover template in a big enough envelope with tracking, in case the envelope gets lost in transit.
CONTACT US if you need any assistance.
CALL US TO PLACE AN ORDER, OR WITH ANY QUESTIONS:

(866) 488-KEYS (5397)
---
Are You Still Unsure If You Should Order
A Grand Piano String Cover?... 
Watch the Video Again, Here:

Please Note: This is a SAMPLE VIDEO ONLY. A matching key cover is NOT offered at this time with the string cover, and colors may differ from this video and your actual string cover.