FOR SALE:
Charles R. Walter
190 Grand Piano +
2018 QRS Wi-Fi Player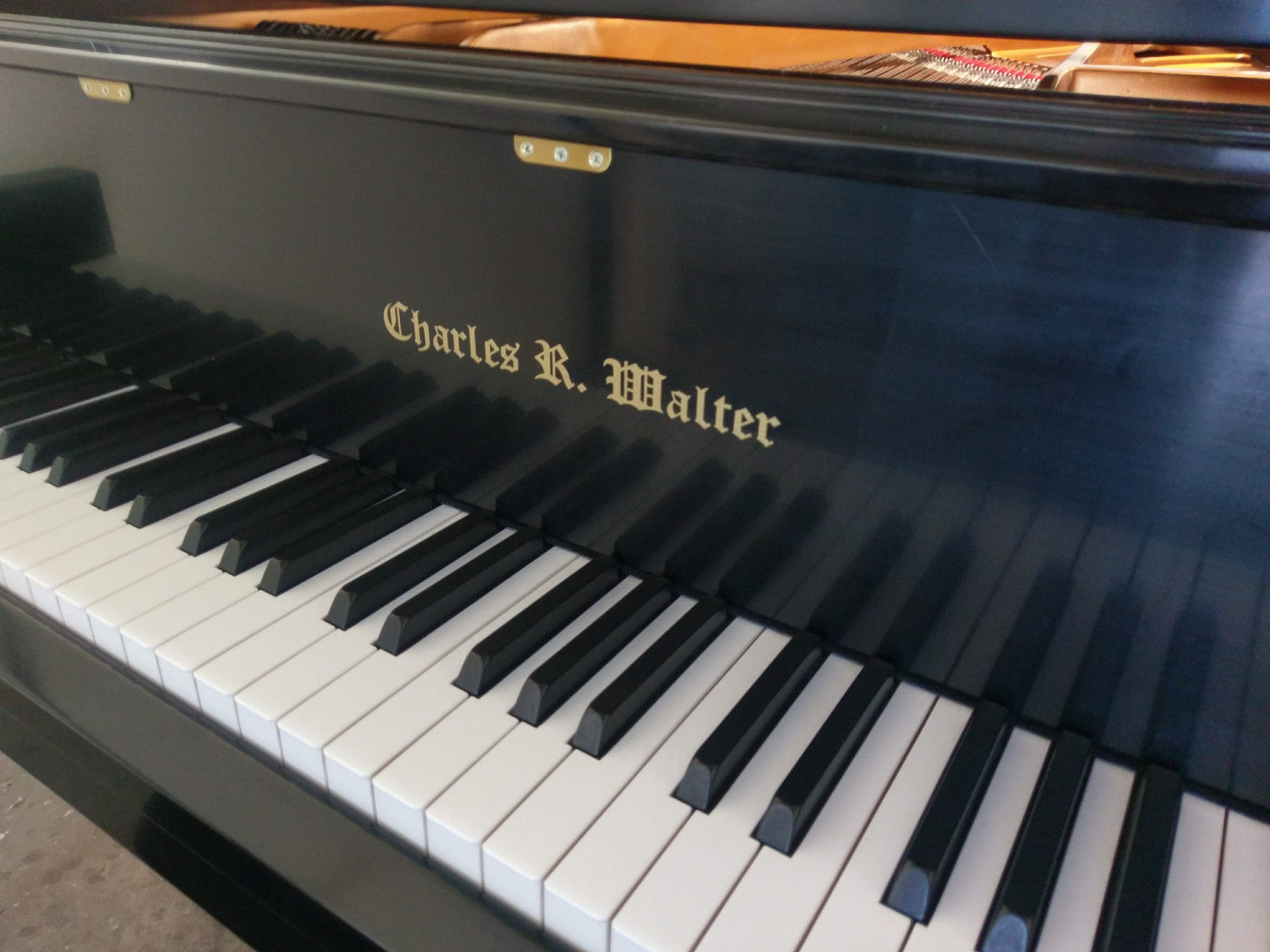 Piano Was SOLD, June 2019

This beautiful, handcrafted 2004 Charles R. Walter Model 190 Grand Piano, with 2018 QRS Wi-Fi Player System can be yours, at a deep discount, by a motivated seller.

Piano is from one original owner, and has been carefully prepped, refined, and made ready for you to enjoy, entertain guests, or explore all of the features the QRS Player System has to offer. 

OFFER INCLUDES:

FREE Professional Nationwide Delivery PLUS

FREE In-Home Service + Tuning After Delivery PLUS
1-Year / 100% Parts & Labor Warranty

Call Us: (866) 488-KEYS (5397) for more information, or to see in person (see our "Travel Reimbursement", below).

This piano is the perfect fit for a serious student, performing artist, living room, professional pianist, teacher, or studio. With this piano you receive a highly engineered, hand crafted instrument, with the world's best piano artists, performing for you - in your living room.

Call Us: (866) 488-KEYS (5397)
See our "Travel Reimbursement" (below),
If You Are Buying From Out-of-State.

FINANCING AVAILABLE:
Piano can be financed through The Piano Credit Company:
18 Months 0% APR Financing, same as cash AND 
Up to 120 Month Terms, on approved credit.
Merchant ID: 1247
---
FINE DETAILS & FEATURES:
Make: Charles R. Walter
Origin: Made in the United States
Model: 190 --PLUS-- 2018 QRS Wireless Player
Size: 6' 4"
Year: 2004
Serial Number: 530249
Color: Black / Satin Ebony
Case Condition: A
Parts Condition: A
QRS Player: 2018 PNO3 w/10,000+ song library (see below)
Warranty: 1-Year / 100% Parts & Labor
Price New in 2018: $75,000+
Our Price: $27,950 Delivered to 48-States.
Call (866) 488-KEYS (5397) to
Schedule An Appointment
--or--
Contact Us
to be sent videos of the piano.

---
Player System:
Connect the QRS PNO3 Player System to your basic home stereo, home theater system, Sonos, and other audio systems, or listen to without any extra connectivity.

---
Experience maximum concert exposure, from the comfort of your living room.
---
MUSIC LIBRARY ACCESS:
QRS 10,000+ Song Library:
http://QRSMusic.com
QRS Wi-Fi Player
Demo Video
The wireless player system upgrade can be used with any tablet, smart phone, iPad or iPhone; the Apple iWatch or Amazon Alexa (voice activated).

INCLUDED IN THE TOTAL PRICE:


Matching Genuine Leather Artist Adjustable Bench ($850 Value)

1-Year / 100% Parts and Labor Guarantee (Priceless)

1x Service Visit by a Professional Piano Technician

2018 QRS Wireless Player System ($7k+ value)

Professional, Insured Movers to SAFELY TRANSPORT Your Charles R. Walter Grand Piano to Your Home

1-Year Phone Technical Support / Guidance

Piano Appraisal for Insurance Replacement Value (2018 MSRP)

10% down financing OAC with up to 120 month terms.

Set of 3 Caster Cups




Any price offered below sales price will not include any service, delivery, or a warranty, but the piano just sold "as-is".
.

Call For More Information:
(866) 488-KEYS (5397) or
Apply for 0% APR Financing, Here.
  Merchant ID: 1247
Piano is located 5 minutes from South Coast Plaza and the Segerstrom Center for the Arts, less than 5 minutes away.

If you're on your way to Disneyland, the beach, Knotts Berry Farm, or South Coast Plaza, you owe it to yourself to hear and play firsthand, this beautiful Boston Grand piano.

TRAVEL REIMBURSEMENT:

We offer a $200 Travel Reimbursement: Let us know what date you plan to arrive (Airport: John Wayne Int'l, Santa Ana, CA / "SNA") and we'll reserve a room for you at a fine local hotel, and pick up the tab for you (per two adults, one room, and one night).
Hotels Include: Embassy Suites, Hyatt, Hampton Inn, Marriott, Courtyard by Marriott, The Hilton, and others.
Like a room DIRECTLY NEAR the beach sand?... Let us book you a room at Newport Beach, and enjoy your Pacific Ocean stay near the beach! TO REQUEST, Call: (866) 488-KEYS (5397)

SHOWROOM STATUS:
Fine, Meticulous, and Careful Concert Preparation:

Action Regulation -- Concert Status Ready
Hammer Voicing -- Clear, Singing Tone
Fine Tuning -- Perfect Pitch, Tuned to A440Hz

Piano has been professionally tuned, regulated, and voiced to a high level status.