Steinway Model D Pianos
For Sale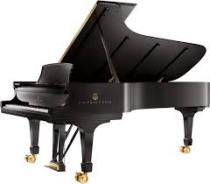 Steinway Model D Pianos for sale. Statuses include: Like new, concert designated, rebuilt, and excellent condition, for sale. Prices include shipping to 48-continental United States, and free professional tuning after delivery.
Extended service [tuning, regulation, voicing] may be added after purchase, based on local piano technician availability.
Call: (866) 488-KEYS (5397)

---
Current 2018 Retail Prices - Steinway & Sons Model D:
See PianoBuyer.com for additional retail price information.

Satin & Polished Ebony: $171,100

Other finishes available at additional, respective price points.
See your local, authorized Steinway dealer for more information.

---
Call For Current Inventory: 
(866) 488-KEYS (5397)

---
UPDATE: OCTOBER 13, 2018.

INVENTORY IS UPDATED on a WEEKLY BASIS.
---
FEATURED: 
RESTORED in 2018
Steinway & Sons Model D Concert Grand

GLOBAL SHIPPING AVAILABLE
$73,950 Delivered within the

48-Contiguous States

Call (866) 488-KEYS (5397)

(Watch Video, Below)

Size: 8' 11 3/4" / 274 cm

Type: Concert Grand
Year Manufactured: 1951

Serial Number: Call For Serial Number

Price New Model D 2018: $171,100

Sales Price - Delivered within USA: $73,950.

Warranty: 3-Year Parts / 1-Year Parts & Labor 

Bench: Adjustable Leather Steinway Concert Artist.

Shipping: Included. Professional Insured Delivery.

Service: Professional Piano Technician, 1x Visit After Delivery
VIDEO:

---
Also Available: HAMBURG Steinway & Sons Model B
Size: 6' 11" Build Date: 1980s Color: Ebony Satin

Asking Price: $83,950  Delivered in USA. Global Shipping Available. 
Lifetime Trade-Up Guarantee*
Offered with Adjustable Artist Bench + 1-Year Warranty

This gorgeous Model B has all German Steinway action parts and has thoroughly been prepared and made ready, with a superior concert level of performance, with a lightning fast action, that's responsive to the most subtle nuances of touch, along with a rich, singing, and sustained tone - clear to the top octaves. The bass is deep, thunderous, and wide. Truly, a piano worth considering for your organizational or private venue.

A piano worthy of and well suited for the concert stage, at a fraction of the cost of a 2018 HAMBURG Steinway & Sons Model B semi-concert grand. 
---
Call (866) 488-KEYS (5397) for more information.

---
Call Us (866) 488-KEYS (5397) to request availability of selected years & statuses of lightly used and restored Steinway Model D grand pianos for sale in the current inventory.

Thank you.
---
*Lifetime Trade-Up Guarantee is made available from respective dealer under whom the piano is sold. A separate Total Piano Care Warranty is available for parts and/or service.